Give yourself up to the 100% natural hot spring water The bathtub is poured in nature hot spring that gush out of the source which is 60-150 meters underground, Release yourself from any lingering stress with the pure, brownish hot spring water.
Natural hot spring bath
The hot spring water used in the bath is not diluted, boiled, or circulated. It's 100% naturally sourced and flowing hot spring water. Open hours: 15:00 – 1:00 / 5:00 – 9:00 ※Not available for day trip visitors.
The neighboring hotel"Kohantei" has large public baths that are also open for our overnight guests free of charge.
※For overnight guests, towel and bath towel rental fee is 300 yen (includes tax).

Hot spring type and benefits
We use 100% natural hot spring water of Toyako Onsen for Gokirakutei baths. The natural hot spring water is used purely as it is, from the source. This chloride hot spring type is beneficial for cuts and burns. Moreover, the skin beautification effect is especially good for women.
Source name

Toyako Onsen
Hot spring type

Chloride hot spring, Sulfate hot spring, Mixed sodium and calcium bicarbonate hot spring (neutral · hypotonic · high osmotic pressure spring)
People with the following conditions / diseases are medically prohibited and must avoid this spring

Not applicable
People with the following conditions / diseases could benefit from this spring

Cuts, Peripheral circulatory disturbance, Sensitivity to cold, Depression, and Dry skin disease.
Source temperature

47.6℃
pH

5.66
| | |
| --- | --- |
| Hydrolysis | × |
| Warming | × |
| Circulating | × |
| Release | ◯ |
| chlorine | × |
About Toyako Onsen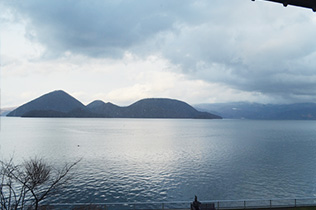 Toyako Onsen area with its ample supply of hot spring water is proud to be the most prominent spot of all Hokkaido in both number and class of hotels and Japanese-style inns.The lake and surrounding mountains are counted as one of Hokkaido's top three sceneries. Hot spring types include sodium, calcium, chloride, sulfur and more. These provide benefits for nerve pain, joint pain, and recovery from exhaustion. Besides the various hotel accommodation hot springs, there are hand baths, foot baths, and day trip baths that can be accessed across town. For your pleasurable use and enjoyment, please take the time to try them out to the fullest.