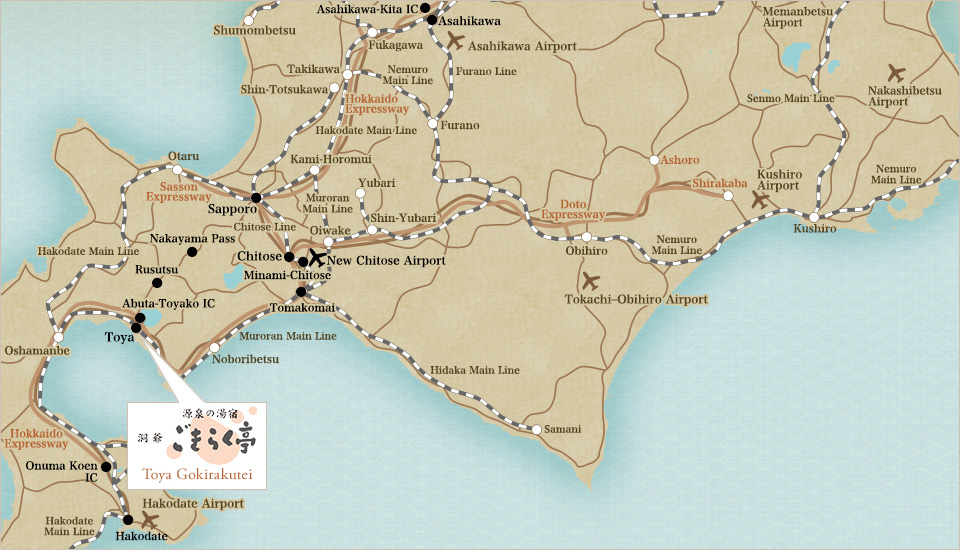 We offer shuttle bus service from JR Sapporo Station for 770 yen per person one way. Also,1000 yen per person one way from New Chitose Airport. Reservations will no longer be accepted once seating becomes full, so please reserve as early as possible. For your comfort and convenience, please take advantage of the pick-up/drop-off bus service.
Reservation Method

Reservations will be taken by telephone only. For customers who wish to take the shuttle bus, please contact directly to Gokirakutei. TEL :+81-0570-026571 Reception Hours :10:00~18:00 * Due to the limited number of seats on the bus, we do not allow reservations for groups of 8 or more people. To prevent the spread of COVID-19 and other infections, Noguchi Kanko approach to the prevention of infection for all customers using the shuttle bus.
Gathering on Day of Bus Departure

・Reception will begin 30 minutes prior to bus departure. Please be sure to check-in at least 15 minutes before departure time. To ensure our smooth and proper bus ride together, it is necessary to strictly keep to the time schedule.

【Date of change】
From 1st.Sep,2022
【Meeting Place】
Near East ticket gate, JR Sapporo Station.
Staff wearing a yellow jacket will be there to receive you.
Pick-up Bus (Leaving from Sapporo Station North Exit)

| Reception Sapporo Station North Exit | Leaving Sapporo Station North Exit | Arriving at Gokirakutei |
| --- | --- | --- |
| 13:00 | 13:30 | 16:10 |
Sending-off Bus (Leaving from Toya Kohantei)

| Gathering at Gokirakutei | Leaving from Gokirakutei | Arriving at Sapporo Station North Exit |
| --- | --- | --- |
| 9:30 | 9:45 | 12:15 |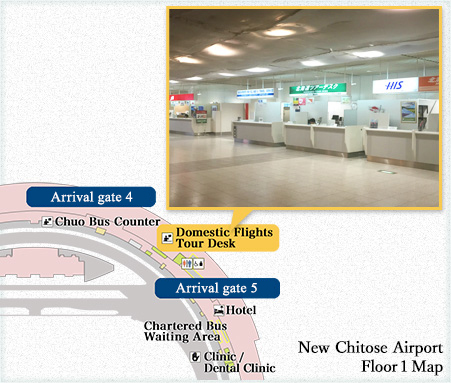 On the 1st floor of New Chitose Airport in the arrival lobby, between Japan Airlines (JAL) Arrival Port A and Japan Airlines (JAL) Arrival Port B, there is a big green sign reading "Hokkaido Tour Desk" at the domestic flights tour desk area. This is the designated meeting place. The counter staff will receive you.
Pick-up Bus (Leaving from New Chitose Airport)

| Reception New Chitose Airport | Leaving New Chitose Airport | Arriving at Gokirakutei |
| --- | --- | --- |
| 13:45 | 14:00 | 16:30 |
Sending-off Bus (Leaving from Toya Kohantei)

| Gathering at Gokirakutei | Leaving from Gokirakutei | Arriving at New Chitose Airport |
| --- | --- | --- |
| 10:17 | 10:20 | 12:45 |
Important Note

・Gokirakutei overnight guests point of arrival and departure will be at Toya Kohantei.
・The shuttle bus payment fee shall be requested at hotel check-in.
・On days that there are no reservations made, the service will not be running.
・Our bus aims to suit fellow passengers as much as possible. We have auxiliary seats for such purpose.
・Please be aware in advance that if the airplane / public transportation you are using is late, there are times when the shuttle bus may leave without you. In such cases, the travel arrangements and expenses to the hotel become the customer's responsibility.
・The New Chitose Airport shuttle service usually proceeds in the order of Kitayuzawa ⇒ Toyako. There is a possibility that the operation order will be changed if we extend service due to high frequency. We thank you for your acknowledgment in advance.
・Please be aware that depending on traffic conditions, the bus may run on a slight time lag.
・This is a completely non-smoking bus.
・Please note that neither we, nor the bus company, shall be responsible for the loss of your luggage and/or personal belongings.
・Please be aware in advance that there will be no stops to get on or off the bus along the route to or from the hotel.
・Shuttle bus reservation will be automatically canceled when the reservation is canceled.
・For New Chitose Airport service, a cancellation fee will be charged when cancellation is without prior notice or on the day of your accommodation date. In such cases, you will be charged 100% of the fee, including fee for return service to the airport. Please be aware in advance. (Cancellation up to the day before the stay shall be free of charge.)